Foreign trade plays a vital role in the growth and development of an economy in terms of enhancing the level of production, generation of employment and income opportunities, an inflow of foreign exchange at the domestic level, and strengthening bilateral and multilateral economic relations at the global level. This article on A Critical Analysis of Foreign Trade Policy 2023…
Presented by Aakriti Yadav…
Introduction-
"Free trade is best but some trade is better than no trade."  -G Haberler
Several economists considered trade as an engine of economic growth. They favored fair trade with some protectionist policy rather than free trade. This formed the basis of foreign trade policy for the nations.
Foreign trade is a set of rules and procedures for facilitating imports, augmenting exports, and creating a balance of payment position.
Nodal Agency in India-
Directorate General of Foreign Trade (DGFT) under the Ministry of Commerce and Industry is responsible for formulating and implementing foreign trade policy in India.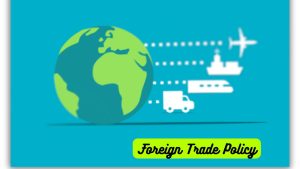 Historical Background-
India's Foreign Trade Policy has witnessed structural changes in volume, composition, and direction since independence. Capital-intensive commodities have replaced labor-intensive commodities. The share of developed and developing countries in India's total trade has increased.
India's foreign trade policy was highly restricted during a few five-year plans, eventually liberalized from 1991 to 92 as a result of changing macroeconomic situations.
India's Foreign Trade Policy During Plans-
1951-1990: India's foreign trade policy from 1951 to 1990, also known as the era of planned development was primarily focused on import substitution and self-reliance. The Policy was aimed at reducing India's dependents on foreign imports and increasing domestic production. The policy also recognized the importance of promoting exports and establishing trade agreements with other countries.
1991 onwards: India's foreign trade policy underwent a significant shift in 1991 with the introduction of economic liberalization and globalization. It aimed to promote free trade, increase exports, attract foreign investment, and comply with international standards. The policy has successfully increased India's share in the global market and promoted economic growth.
In FTP 2009-14, the scope of market-linked product scheme widened. However global financial crisis resulted in a decline in trade growth.
Foreign Trade Policy 2015-2020
The Foreign Trade Policy for 2015-20 had targeted exports of US $ 900 billion by 2020. This target was extended for three years till March 2023.
Why did FTP 2015 fail to achieve the target?
While the policy has a lofty goal of doubling Indian exports to $ 900 billion by 2020. But it only achieved the target of $770 billion. There are the following reasons for its failure-
The covid-19 pandemic proved a major hurdle in FTP 2015. Frequent lockdowns adversely hit the export sector, especially MSMEs.

Due to the protectionism policy of developed nations such as the USA and the European Union, the Indian export share declined in the global market.

Geo-political issues such as the Russia-Ukraine war also impacted Indian trade. It further aggravated the fuel and food crisis.

Synchronized policy rate hikes by developed countries such as federal tapering for inflation control affected loan availability to the exporters.
Foreign Trade Policy 2023-
Union Minister of Commerce and Industry, Consumer Affairs and Public Distribution and Textiles launched Foreign Trade Policy 2023 which comes into effect from April 1, 2023.
Goals and Targets-
The government target is to increase India's overall exports to US $ 2 trillion by 2030 with equal contributions from the merchandise and service sectors. The government also intends to encourage the use of Indian currency in cross-border trade.
Salient Features of FTP 2023-
It targets $2 trillion exports by 2030

Making rupee a global currency

Making India a trading hub

Digitization and faster processing of applications

Several incentives have been provided to boost export.
Major Initiatives Undertaken in FTP 2023-
To coordinate with Trade Facilitation Agreement of WTO, an inter-ministerial body of the National Committee on Trade Facilitation (NCTF) has been constituted.
DGFT is implementing the Niryat Bandhu scheme to mentor new and potential exporters in training, counseling, and orientation programs.
DGFT has created a common digital platform for E-certificate of origin (e-CoO).
To reduce transaction and handling costs, a single window system to facilitate the exports of perishable agricultural produce is being facilitated through Agriculture and Processed Food Products Export Development Authority (APEDA).
The FTP 2023 aims to develop districts as export hubs.
Duty-free Import Authorization (DFIA) scheme is issued to allow duty-free imports of inputs such as import of oil and catalyst which is consumed in export process.
 Duty Remission scheme includes Duty Drawback Scheme(DDS) by the Department of Revenue, Scheme for Rebate on State and Central Taxes and Levies (RoSCTL) as notified by the Ministry of Textiles and Remission of Duties and Taxes on Exported Products (RoDTEP) by the Department of Commerce.

 Export Promotion of Capital Goods (EPCG) scheme allows import of capital goods at zero customs duty.

Streamlining Special Chemicals, Organisms, Materials, Equipment and Technologies (SCOMET) policy for a robust export control regime.
Amnesty scheme will provide relief to exporters who are burdened by high duty an interest costs.
PM MITRA scheme, Green Technology Products, Export Oriented Units, Electronics Hardware Technology Parks, Software Technology Parks, and Bio-Technology Parks to promote manufacture of goods, enhance foreign trade, and attract investment for export production and employment generation.
FTP 2023: An Economic Magnet for India
The policy lays down a blueprint to integrate India with the global market and to fulfill India's strategic vision of making India one of the top exporting nations in 'Amrit Kal'. It supports the philosophy of 'Atma Nirbhar Bharat' and 'Vocal for Local'. It will also help in achieving India's triple growth rate target in goods and services export and facilitate 'Ease of Doing Business.'
Still, a Glass Half filled: Challenges Ahead
Inadequate export infrastructure– Export infrastructure particularly port infrastructure such as port connectivity, congestion, poor cargo handling, high transaction cost, etc. leads to loss of competitiveness.
High Product and Market Concentration– Most of the exports are limited to a few commodities only.
Regional Trade Blocks and Duty Structure– Free trade agreement of India lead to an inverted duty structure wherein the import duty on finished goods from the trade block countries is lower than the duty on raw materials imported from other countries to produce the goods domestically.
Lack of Awareness about Government policies– The exporters sometimes are not aware of the incentives provided by the government. So they could not gain much.
Road Blocks for Special Economic Zones– India's special economic zones lag behind because of regulatory control, procedural bottlenecks, etc.
Criticism: New Wine in Old Bottle
India's Foreign Trade Policy 2023 is criticized as old policy for new world. It is merely an upgradation of the previous Foreign Trade Policy 2015 with repetitive incentives and lofty targets.
Way forward- How to make FTP 2023, a successful story?
There are the following ways to tackle the challenges and unleash the full potential of foreign trade policy 2023 in order to achieve the desired goals-
India needs to diversify its composition and direction of trade to reduce volatility.

Export infrastructure needs to be improved immediately to boost export.

Rate of interest on loans should be rationalized along with easing the condition for obtaining finance from banks and non-banking financial companies.

To take concrete measures for special economic zones and their development.

A reality check of regional trade blocks is to be done and the right balance between different stakeholders is to be targeted.

Government steps to generate awareness with the help of technology can help in the long run.

Reducing red-tapism to curb corruption and possible misuse of the policy. 
Conclusion-
Despite of several challenges the Foreign Trade Policy 2023 has the potential to accelerate the country's transition to a globally oriented vibrant economy. Overall if the government stays vigilant and updates the mid-term review, the FTP 2023 could play an important role in achieving the $2 trillion export target.
Thank you for spending your valuable time on the article A Critical Analysis of Foreign Trade Policy 2023. Your suggestions are welcomed in the comment section.
Opportunities and Challenges of India's G20 Presidency
What is Bretton Woods System and Why it is Created?
Salient Features of GST Act in India
Definition of Monetary Policy- Objectives and Instruments
What are the Major Biomes of the World?
The Importance of Coral Reefs and Related Threats