Beautiful Posters on Mother's Day…
-by Aakriti Yadav
Have a very Happy Mother's day
"Mother: the most beautiful word on the lips of mankind." 
A mother is an embodiment of affection and care. She shows selfless love towards her children and other family members. She nurtures her children like a plant. The primary school of a child is his home. The first teacher of a child is his mother. The child, first of all, comes in contact with his mother. The first lesson that a child learns is given by his mother. The mother teaches her child to speak, she holds his finger and teaches him to move on his foot. No dictionary has words enough to define a 'mother'. It is the feeling of motherhood that shows her children the right path to move on through breaking the unbreakable barriers. She always has enough enthusiasm to carry out her duties, take care of her children and make sacrifices for them.
"It may be possible to guild pure gold, but who can make his mother more beautiful?"
A mother imparts good Sanskar in her children, good lessons, and morality. All her love is for her children. The love, sacrifice, care, and tolerance, hard work she shows for them is a lesson for her children. Without her presence survival of the family is unimaginable. As a temple without the presence of God. Without her presence, peace can not be felt in the home. She maintains a system and discipline in the family. Without a mother, a home becomes no less than a Jungle. She is the first person in a family to induce in her children a sense of right or wrong.
"We are born of love; love is our mother."
–Rumi
We can take the example of Mother Teresa who did not give birth to any child but still is called 'Mother' by all because of her nature of sympathy, help, care, and selfless love. She had all the motherly qualities. Hence people loved and respected her as a mother. All other relations in this world expect back but only a mother gives them all without expectations. We all know that today's girl would be tomorrow's mother so the onus is up to us to create a society free of bias, prejudice, inequality, and discrimination against women for a better tomorrow.
"The world needs our mothers."
-Liya Kebede
So on this Mother's Day, Let's wish our lovable mother with these amazing quotes and posters…
1. 
"My mother is my root, my foundation. She planted the seed that I base my life on, and that is the belief that the ability to achieve starts in your mind."
– Michael Jordan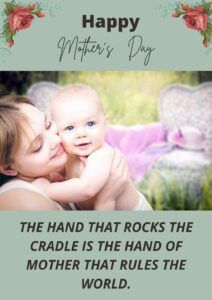 2.
"A mother's love is everything. It is what brings a child into this world. It is what molds their entire being. When a mother sees her child in danger, she is literally capable of anything. Mothers have lifted cars off of their children and destroyed entire dynasties. A mother's love is the strongest energy known to man."
-Jamie McGuire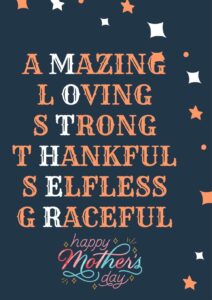 3.
"Motherhood: All love begins and ends there. "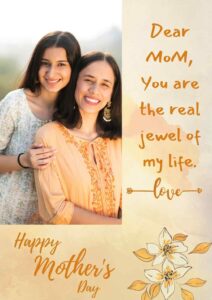 4. 
"There is no velvet so soft as a mother's lap, no rose as lovely as her smile, no path so flowery as that imprinted with her footsteps." 
 –Archibald Thompson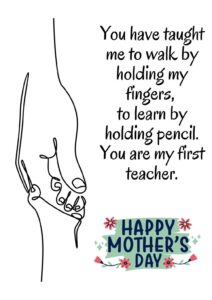 5.
"If love is as sweet as a flower, then my mother is that sweet flower of love."
–Stevie Wonder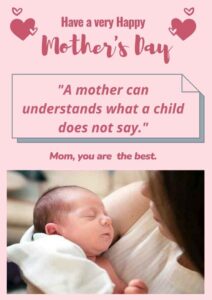 6.
"A mom forgives us all our faults, not to mention one or two we don't even have." 
–Robert Brault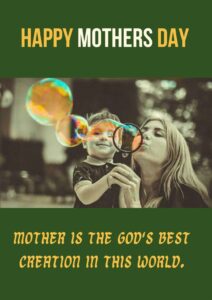 7.
"The mother's heart is the child's school-room." 
–Henry Ward Beecher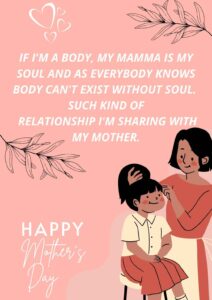 8.
"Mother love is the fuel that enables a normal human being to do the impossible." 
–Marion C. Garretty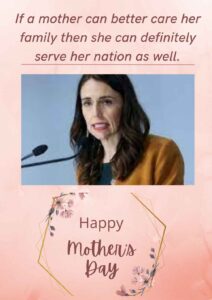 9.
"Acceptance, tolerance, bravery, compassion. These are the things my mom taught me."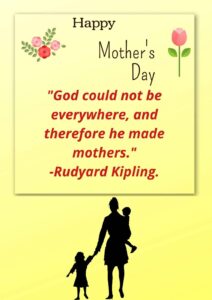 10.
"To a child's ear, 'mother' is magic in any language."
–Arlene Benedict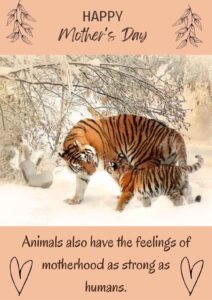 11.
"Mothers can look through a child's eyes and see tomorrow." 
–Reed Markham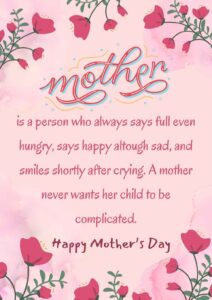 12.
"Of all the rights of women, the greatest is to be a mother." 
–Lin Yutang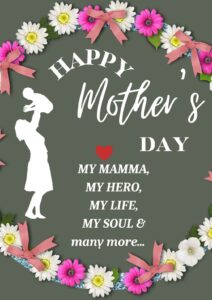 13.
"If love is as sweet as a flower, then my mother is that sweet flower of love." 
–Stevie Wonder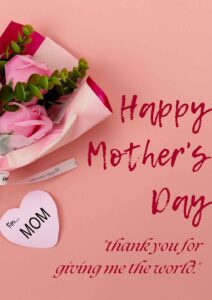 14.
"The art of mothering is to teach the art of living to children."
-Elaine Heffne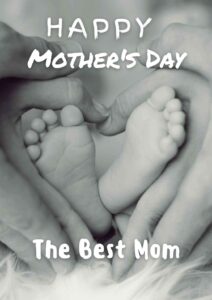 15.
"A mother is she who can take the place of all others but whose place no one else can take."
–Cardinal Mermillod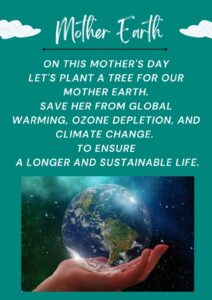 Thank you for spending your time on this article- "Beautiful Posters on Mother's Day".
Share it with your friends if you liked it.
Women's Day Posters and Speech