After world war second, an urgent need was felt to set up such institutions to finance and stabilize the economies of war-torn countries through developmental loans. This article will provide you detail information on "What is Bretton Woods System and why it is created?"
Presented by Aakriti Yadav…
What is Bretton Woods System and why it is created?
In July 1944 representatives of the 44 nations of the world held a conference at Bretton Woods town, New Hampshire in the USA to rehabilitate the global economy after world war second. Thus the name Bretton Woods System.
It is created to address 3 agendas-
Problem of international liquidity and international stability.

Rehabilitation and developmental process of the individual economy i.e. sustainability issues.

Problem of international trade liberalization.
Benefits-
Under Bretton Woods System gold was basis for the US $ and other currencies were pegged to the US $ value. Currency pegs were expected to provide currency stabilization for trade of goods and services as well as financing. The countries were required to monitor and maintain their currency pegs which they achieved primarily by using their currency to buy and sell US $ as needed. Thus the system helped in regulation of trade and minimized currency exchange rate volatility.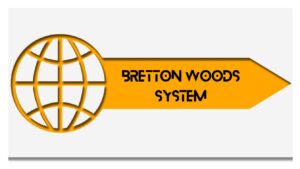 Why did it collapse?
The system dissolved between 1968 to 1993. An attempt to revive the fixed exchange rates failed and by March 1973, the major currencies began to float against each other. This led to the end of the Bretton Woods System.
Outcomes of the Summit were

–
It proposed 3 international institutions:
IBRD commonly known as World Bank was established to release developmental loans to rehabilitate war-torn countries.

Setup of International Monetary Fund (IMF) to solve the problem of international liquidity, provides funds for deficit of balance of payment (BoP).

Proposed International Trade Organization (ITO) among countries to facilitate trade but due to some political issues, the idea could not materialize. Instead, the countries set up General Agreement on Tariffs and Trade (GATT).
Therefore International Monetary Fund and World Bank are the outcome Institutions of Bretton Woods System known as Bretton Woods Twins and marked as the statutory or permanent body. The headquarters of both Institutions are in Washington therefore they are also known as Washington twins.
World Bank-
The World Bank is an international organization set up in July 1945 dedicated to providing financing, advice, and resources to developing nations. The Bank originally focused on reconstructing war-torn European countries. It attempts to fight poverty by offering developmental assistance to middle and low-income countries. The World Bank provides low-interest loans, zero-interest credits, grants, and debt to support economic development of nations.
World Bank Groups-
World Bank group consists of five organizations:
International Bank for Reconstruction and Development (IBRD) – IBRD is commonly known as the World Bank. It lends development loans with interest to governments of middle-income and low-income countries. 
International Development Association (IDA) – It provides interest-free long-term loans or concessional loans called soft loans to governments of the poorest countries. Together IBRD and IDA make up the World Bank.
International Finance Corporation (IFC) –

It is the largest global development institution

focused

exclusively on private sector. It supports enterprises of developing countries by financing investment, mobilizing capital, and providing advisory services to businesses and governments. It is known for its

Masala Bond

.

Multilateral Investment Guarantee Agency (MIGA) – It was created in 1988 to promote Foreign Direct Investment (FDI) into developing countries to support economic growth, reduce poverty, and improve people's life. MIGA fulfills this mandate by offering insurance against non-commercial risks such as political instability, regime change, etc. to investors and lenders.
International Centre for the Settlement of Investment Disputes (ICSID) – It helps in addressing dispute resolution related to foreign investment, developmental challenges on critical issues like climate change,

pandemics, forced migration, etc. The Bank group plays a leading role because it is able to convene discussion among its member

countries. India is not a member of this organization.
In the first four organizations, voting power depends on the share capital provided by a country. However, the fifth organization is a dispute settlement body so the concept of each country's voting power does not apply to it.
 Notable Reports

–
Notable reports published by World Bank include- World Development Report, Ease of Doing Business Index,  Remittance and Migration Report, and Global Economic Prospects Report.
International Monetary Fund (IMF)

–
The IMF is an international organization set up in December 1945 in Washington. It helps in global currency exchange stability, promotes global economic growth, encourages international trade, and help against balance of payment crisis. It acts as a reservoir of the currencies of all the member countries from which a borrower nation can borrow the currency of other nations using the Special Drawing Rights (SDR) mechanism. Therefore the IMF's primary objective is to ensure stability of International Monetary System i.e. the system of exchange rates and international payments that enable countries to transact with each other.
The quotas of a member countries are a key determinant of voting power in IMF decisions. Votes comprise one vote per one lakh SDR of quota plus basic votes. The USA has the highest voting power and veto power.
History of IMF

–
The IMF originally attempted to encourage international financial cooperation by introducing a system of convertible currency and fixed exchange rates. The IMF acted as a gatekeeper for the countries who were not eligible for membership in the International Bank for Reconstruction and Development i.e. World Bank. Since the Bretton Woods System collapsed in 1970s, the IMF had promoted the system of floating exchange rates meaning the market forces determine the value of currencies is related to one another. This system continues to be in place today.
IMF Activities –
The IMF's primary methods for achieving these goals are monitoring, capacity building, and lending.
Monitoring or Surveillance – The organization collects data and provides regularly updated economic forecasts at the national and international levels. These forecast published in the World Economic Outlook on fiscal, monetary and trade policies highlights growth prospects and financial stability.
Capacity Building – The IMF provides technical assistance, training, and policy advice to member countries through its capacity-building programmes. These programmes include training in data collection and analysis. 
Lending – The IMF gives loans to countries that are experiencing economic distress to prevent and mitigate financial crises.
Notable

Reports

–
 The notable reports published by IMF include- Global Financial Stability Report and World Economic Report.
Thus these are the two outcome institutions of Bretton Woods Organization.
Thank you for spending your valuable time on this article, What is Bretton Woods System and why it is created? I hope you gained some new information here. Share this article among your peers as well.
Crude Oil Crises and its impact on Indian Economy
Salient Features of GST Act in India
Cryptocurrency and Blockchain Technology
Rostow's Stages of Economic Growth
What are the Major Biomes of The World?