In this article, we are going to see the charms and challenges of Work from Home...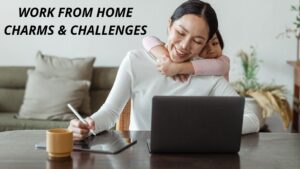 Introduction-
Covid-19 pandemic forced the people to do their work from home with the help of various tools and internet technology.  However, before this pandemic, people's were also working from their homes in selected works of Beedi rolling, tailoring, beauty parlour, achar papad making, etc.  But the idea of working from home gained high momentum during the covid-19 pandemic when everyone was isolated in their home due to the spread of this contagious epidemic. 
Benefits-
There are several benefits of working from home which are as follows:
From Workers Point of View-
It enables people to save their time and transportation cost. It also protects their health from outdoor pollution like air pollution and noise pollution, etc. Thus enhancing their work productivity.
The system of working from home is helpful for those workers who can't effort high rental cost of houses in urban areas or in Metropolitan cities. Thus the poor people can also work from their small towns and can save their rental cost of houses.
This prevents harassment of the employees from their employer and colleagues. Women are feeling safer in their homes rather than in office areas.
Home working provides an opportunity for the employees to spend more time with families and they can also help in domestic works.
From Employer's Point of View-
Employers can be benefited economically by saving their office rent, electricity bills, utility bills, and fringing cost of their employees, etc. It seems to be cost-effective for job providers. They can hire new talents who can work from distant areas.
From PWDs and weaker sections Point of View-
Persons with disabilities, women and weaker sections feel more convenient and safe in working from their homes. This provides an opportunity to work according to their potential. It also reduces their harassment and provides the opportunity to work more effectively from their home.
Helps in Improving Environment Condition-
If more people are working from their homes then it will result in low vehicles use which will reduce air pollution and improve the air quality index, etc.  In a similar way, it makes an improvement in Seas and oceans water and will save the biodiversity of that region.
Challenges-
Working from home doesn't suit everyone– Working from home is not possible for informal workers such as farm labourers, construction workers, gig workers, newspaper vendors, peons, security guards, scavengers, etc. It will create a threat to their livelihood.
Cyber security issue–  Cyber threat is a major challenge for the employees who are using digital technology in their work.  Data hacking, stealing of informative content, and innovative ideas are more prominent concerns of home working.
Domestic violence–  Women are facing domestic violence by their husbands and in-laws,  busy in caring their elderly children and domestic chores are the major challenges that create distractions in their work while working from home.
Lack of motivation and competition– There is a lack of motivation and competition among employees which affects their work progress.  Informal discussion and training of the workers are difficult in such conditions.
Difficult to monitor the work–  It is difficult for the employees to monitor the work of their employers continuously and employers will provide fewer holidays to their employees. Time-consuming in completing the target of the work.
Electricity disruption and poor internet connection– Frequent electricity descriptions and poor internet connectivity are the major hurdles in home working. Low broadband speeds delay the work and it becomes difficult to complete it within a limited span of time.
In availability of computer devices- Lack of accessibility of laptops and smartphone devices creates a challenge in jobs like online teaching,  web designing, digital marketing,  accountancy, etc.
Home distractions-Home working created a challenge for those living in small homes where there is a lack of separate space for work. Other distractions include the crying of younger children,  noises from kitchens,  fighting of family members,  construction and repair work from the neighbourhood, etc. There are various other distractions like Youtube, Netflix, laziness in work which lowers the efficiency of work.
Health issues–  Continuously working on computer and laptop screens creates eye fatigue, back pain, joint pain, obesity etc. It is difficult to separate personal and professional life which impacts mental health.
Conclusion-
Work from home has its own charms and challenges. It opens a new range of possibilities. It is useful in selected jobs like online teaching and IT sectors whereas it is not tenable for the informal workers working as labourers and courier or parcel delivery, etc. 
However, during a situation of a global pandemic, it is the only alternative to continue the work and growth of the economy. So we can make it more beneficial by reducing its challenges and through stricter laws and policy implementation. 
Thank you guys for reading this article. I hope you understand the charms and challenges of Work from Home. Please share it with your friends and let me know your feedback in the comment section. 
Read more…
Population explosion- A threat to country's resources